BREAKFAST WITH SANTA, Sheraton Steamboat Resort, December 21 9-11:30am
Come visit Santa and his helpers at the Sheraton Steamboat Resort. Enjoy chocolate chip pancakes, cheesy eggs and potatoes, bacon and sausage, fresh fruit, and the hot coco bar.
Write a wish list to Santa and get your picture with the big man himself!
STEAMBOAT HOLIDAY FESTIVAL, December 21st
Come to gondola square and celebrate the holiday season Steamboat Style. See Santa ride down the slopes on horseback and meet Santa at his workshop along with some of his favorite reindeer friends. Participate in the stocking scramble and collect free holiday treats at surrounding stores and restaurants. Additional festivities include a cookie decorating, story time and a special holiday concert by the Face Vocal Band as seen on NBC's the Sing Off and America's Got Talent. The party continues after dark with a torch light parade and fireworks followed by night skiing.
Schedule of Festivities
2:00-4:00pm Holiday Cookie Decorating
2:00-5:00pm Stocking Scramble
2:15pm Santa Parade on Horseback
2:30- 5:30pm Meet Santa at Santa's Workshop
3-4pm Face Vocal Band Performance I
4:00-4:30pm Steamboat Story Time
4:30- 5:30pm Face Vocal Band Performance II
5:15pm Torchlight Parade
5:25pm Fireworks
5:30pm Open for Night Skiing
UGLY SWEATER PARTY, Butcherkniefe Brewery, December 23 5-8pm
Naughty or Nice? This seems to be the question on our minds this time of year and our answer as of late has been a resounding… NAUGHTY!

So to celebrate our devious side, Butcherknife Brewing Company decided to host an "Ugly Christmas Sweater Party" guest starring none other than Bad Santa himself.

Dig deep into your closet my friend and pull out that hideous holiday sweater your grand mom gave you years ago and you're too sentimental to donate. You know that somewhere, buried in your drawers, you've got a sweater so heinous that even Saint Nick would mock you for it. The wilder the better, we say.

And if you don't have one of those crazy looking knit garments lying around, we encourage you to come dressed as your best "Bad Santa" or "Naughty Elf." We'll have prizes for best costume and loads of cool stuff to give away.
UNDER THE STREETLAMP, Holiday Concert at Strings Music Pavilion, December 23rd
Returning after a widely successful performance in 2013, Strings welcomes back Under the Streetlamp, a quartet of dreamy-voiced lead singers, all four of whom were leading cast members of the Tony Award-winning musical Jersey Boys. Individually, all four have been featured on Broadway, in film and on television and showcased on The Tonight Show, Emmy Awards and the Oprah Winfrey Show. They will perform classics from the American Radio Songbook as well as much-loved holiday favorites. Their repertoire features doo-wop, old time rock 'n' roll, Motown-era soul classics and exquisite harmonies, including all of your favorite songs from The Drifters, The Beach Boys, The Beatles, The Four Seasons and many others. Tickets >>

"Under the Streetlamp proves great music is timeless…with exceptional style and remarkable confidence, their act goes down as smoothly as a perfectly dry martini served up in the glamorous nightclub of your nostalgia-fueled dreams." ~ Broadway World
JINGLE BELLS, BATMAN SMELLS, Youth Holiday Performance at Strings Music Pavilion, December 28th
A holiday theatrical performance for the entire family by Allison Gregory, adapted from the books by Barbara Park, directed by Casey Stangl. Tickets>>

A live theatrical production based on the popular Junie B. book series by Barbara Park. Junie B. Jones, the world's favorite first grader, will steal your heart and brighten your spirits with her Secret Santa saga this holiday season. Barbara Park, the author of the Junie B. Jones chapter book series, has received more than 40 awards for her books, including 25 Children's Choice awards.
NEW YEAR'S EVE TORCHLIGHT PARADE & FIREWORKS, Gondola Square, December 31st, 5-5:30pm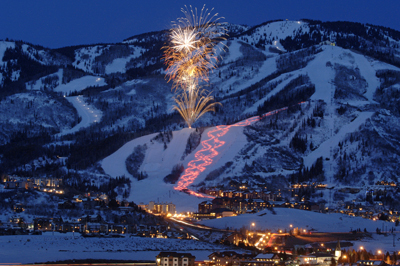 The Steamboat Ski & Snowboard School treats tourists and locals to a spectacular on-snow parade down the mountain lit only by torches for this New Year's Eve event. In conjunction with the torchlight parade, a fireworks display will illuminate the sky providing a perfect ending to the evening. The show is free and great for all ages.

The best viewing is from the pavers at the Steamboat Stage and the Umbrella Bar next to the Bear River Bar & Grill, all adjacent to the Steamboat Gondola at the ski area base.
KORBEL'S NEW YEAR'S EVE CELEBRATION, December 31st 9pm
Take the gondola and Celebrate New Year's in the Champagne Powder Room, overlooking the Yampa Valley and the sparkling town lights below. Dance the night away to the music of Sundog and make merry with a balloon drop and Korbel® toast to ring in the New Year. Festive libations are available throughout the evening including a complimentary desert bar, chocolate fountain and dim sum appetizer station.
Tickets are $30 per person and includes gondola ride. Cash bar available.
Load the Gondola at 9:00pm
Korbel New Year's Eve Party is included with all on mountain dining reservations on New Year's Eve including Ragnar's Sleigh Ride Dinner, Four Points Dinner, Hazie's Dinner and Western BBQ.