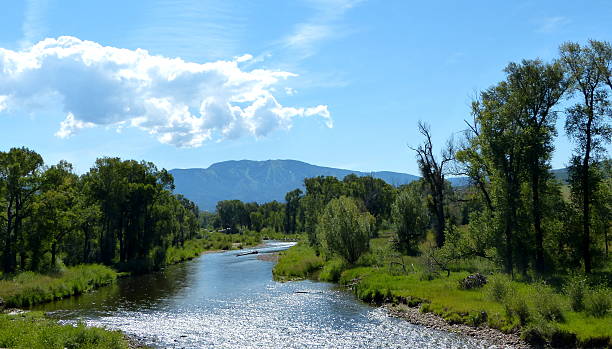 If you ask most locals what lured them to Steamboat, most people would put skiing at the top of their list. Steamboat used to be known as a Winter destination town. In recent years, the secret has been let out of the bag about Steamboat Summers. After being named Bike Town USA, the Summer population has started to swell. With just a few weeks left of the Summer, make sure to partake in all of the things that make Summer in Steamboat so sweet. Here is our top list for your enjoyment:
1) Tubing the Yampa River
2) Farmer's market on Saturdays
3) Friday Night Free Concert Series on Howelsen or the Steamboat Ski Mountain
4) Sunset Happy Hour - take the gondola to the top of the mountain for a concert, beer, and views!
5) Stand-up paddleboarding at Pearl Lake - rent the paddleboards right at the waters edge!
6) The Steamboat Rodeo every Thur-Sat night - this never disappoints!
7) Hiking Fish Creek Falls (or for the more adventurous, hike up to the 2nd falls!)
8) Mountain bike Emerald Mountain
9) Rock Climb at Butcherknife canyon or Seed House Rock
10) Fly fishing on the Elk River or the Yampa River
11) Zip Lining on Rabbit Ears Pass
12) Golfing at Haymaker or one of our other wonderful golf courses!
13) Yampatika nature events - sign up for a nature walk or check out their site for more nature offerings!
14) Swimming at the Old Town Hot Springs - go swimming, venture down the slides, or relax by the pool
15) Go Camping - We have plenty of great 'reserve ahead' camp spots including those at Steamboat Lake
16) Visit one of the 'beaches' for the kids - either at the base of the Steamboat ski mountain, Stagecoach Lake, or Steamboat Lake
17) Downhill biking on our wonderful Ski Mountain trails with gondola rides back up
18) Horseback riding at one of the beautiful ranches outside of town
19) Brewery tours - Butcherknife, Storm Peak, Mountain Tap, and Mahogany Ridge
20) Strolling the downtown shops